East York, Pennsylvania has several restaurants serving up light and hearty dishes. No matter your cuisine preference, you're sure to find an eatery that suits your taste buds. East York offers delicious meals for breakfast, brunch, lunch, and dinner. Check out this list of the best restaurants in town.
Memory Lane Pizza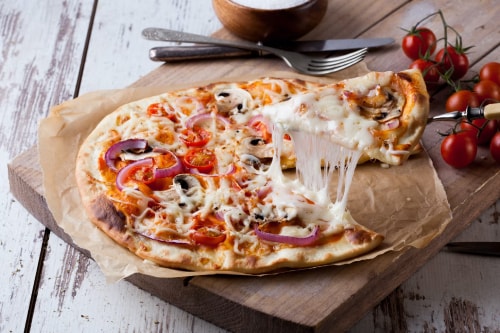 Image by Kelvin T is licensed with Unsplash License
If Italian food is what you're after, stop by Memory Lane Pizza. This pizzeria has a menu bursting with flavor. Explore appetizer options like onion rings, mozzarella sticks, seasoned curly fries, breaded cauliflower, and garlic bread. You can also get pizzeria classics like wings and salads. Some salad choices include the chef's salad and antipasto salad. If you're ready for dinner, consider building your own pie or opting for a specialty pizza, such as the meat lover's, chicken bacon ranch, taco, or buffalo chicken pizza.
If you're up for a different Italian dish, check out the various types of pasta, calzones, and stromboli. Take a bite out of the stuffed shells, fettuccini Alfredo, baked ziti, ravioli, and parmigiana pasta. The pizzeria's stromboli offerings include veggie, chicken steak, or meat lover's stromboli. Memory Lane Pizza also serves up other menu items like sandwiches, wraps, and quesadillas. If you have younger family members in tow, check out the kid's menu where you can find options like chicken nuggets or a classic cheeseburger.
Global Cafe Market
Global Cafe Market is a fast casual dining establishment that offers a variety of fish, chicken, and rice dishes. Find an assortment of platters, such as the curry chicken, grilled salmon, coconut shrimp, and slow-cooked beef platters. You can also feast on a rice veggie, black bean, or quinoa bowl. Consider pairing your meal with sweet plantains and wash it down with your choice of fountain drink. You can also opt for a berry ginger or pineapple-ginger juice. Global Cafe has two locations in East York, in addition to two downtown locations.
Ginmiya
Ginmiya is a dining establishment serving up Chinese and Japanese cuisine. The restaurant prides itself on taking a modern interpretation of classic, authentic dishes. Start your Ginmiya dining experience with an appetizer like the crabmeat cheese wonton, shrimp toast, spring roll, fried pork dumpling, or calamari. You can also choose from an assortment of soups and salads. Consider ordering the miso or corn egg drop soup, or opt for the seaweed or house wonton salad.
Ginmiya serves up dishes with poultry, beef, shrimp or scallop, pork, and vegetables. Try the beef with garlic sauce, pork with cashew nuts, or fried tofu with mixed vegetables. Some side dishes include lo mein, chow mein, fried rice, and pad Thai. You can also find various entrees, such as the vegetable tempura platter, or order sushi and sashimi a la carte. If you stop by Ginmiya during lunch hours, take advantage of the lunch specials or lunch boxes.
Tokyo Diner
Tokyo Diner offers authentic Japanese cuisine with fresh, high-quality ingredients. Consider starting with an appetizer like sushi, sashimi, chicken tempura, or seaweed salad. This dining establishment also offers classic soup choices, such as onion and miso, and salads like chicken or shrimp salad. If it's sushi you're craving, consider ordering a la carte. You can find an assortment of options at Tokyo Diner, such as crab, eel, Boston mackerel, egg, fluke, and octopus sushi, along with cooked sushi rolls like cucumber, avocado, California, and salmon skin rolls.
Tokyo Diner also offers a kid's menu, ensuring the younger members of your family find something to enjoy. Some kid's menu options include hibachi salmon, hibachi steak, and hibachi scallop. Consider washing down your meal with a fountain drink. You can also end on a sweet note by ordering dessert in the form of tempura cheesecake, ice cream tempura, or mochi. Tokyo Diner's mochi flavors include green tea, strawberry, mango, and red bean.
The First Post
The First Post is a pub offering American meals in a traditional yet stylish atmosphere. Bring your crew for brunch every Sunday and enjoy a variety of dishes, such as chicken and waffles, steak and eggs, and a mushroom omelet. If you have children, check out the kid's brunch that features items like brioche French toast, scrambled egg, syrup, bacon, and grapes.
The First Post also offers a lunch and dinner menu, complete with starters and a variety of soups and salads. On the lunch menu, choose from starters like fried Brussels sprouts, shrimp tempura, and seared tuna. You can also find pasta, such as the vegetarian primavera pasta, and entrees like steak frites and salmon. For dinner, consider the delectable filet mignon, slow-roasted and grilled prime pork chop, or a bowl of warm cioppino. If you're a pasta lover, opt for dishes like the blackened shrimp bucatini or sausage gnocchi.
Our Place Restaurant
Stop by Our Place Restaurant for a family atmosphere and warm, delicious meals. This dining establishment offers a breakfast and lunch menu and an assortment of sandwiches. When it comes to breakfast, Our Place doesn't disappoint. Visit during morning hours to enjoy a variety of tasty omelets, such as a cheesesteak, Mexican, Greek, and house omelet. You can also order other classics like warm pancakes, French toast, waffles, and eggs.
When you open the lunch menu, you can find several appetizers including mozzarella sticks, breaded chicken fingers, and battered onion rings. Other options include a bowl of chili, a chef salad, and a chicken or tuna salad platter. Feast on one of the lunch entrees like the broiled scallops, baked meatloaf with gravy, or the baked Virginia ham. You can also order from the kid's menu or enjoy a sandwich, such as the French dip, buffalo-chicken panini, or California chicken sub.
Whether you want pizza, pasta, steak, or seafood, East York has it all. If your favorite restaurant in town didn't make our list, contact us here at Apple Honda of York and let us know what we're missing. We're happy to add your picks to this lineup of high-quality establishments.