Whether you're looking to buy a
new
or
pre-owned
midsize sedan, the Honda Accord should definitely be on your list to test drive. For over a decade, it's maintained its popularity as one of the best-selling vehicles in its class. While Honda has certainly made upgrades with each generation, there are some benefits you can find in every version of the Accord. Read on to discover why the Accord remains so popular today and decide whether it's the right vehicle for you.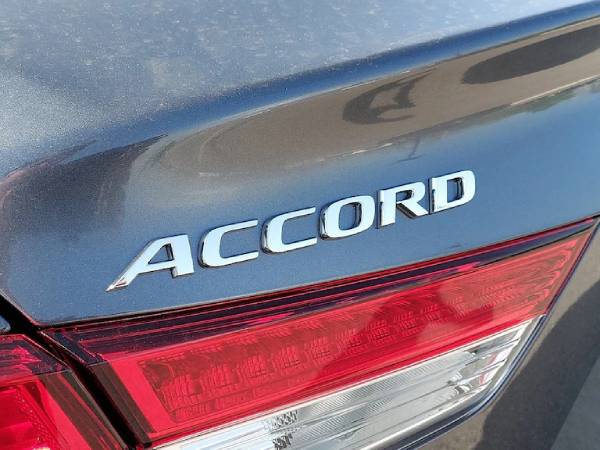 Reliability
Honda has a long-standing reputation for producing reliable vehicles. With a current consumer verified rating of 82 in quality and reliability by J.D. Power, the Accord proves itself to be a highly dependable sedan. It's not uncommon to see even older generations of the accord continue to run smoothly for hundreds of thousands of miles. To make sure your new vehicle remains in tip-top shape for years to come, we even offer a complimentary Honda Service Pass when you buy a new Honda from our dealership in York, Pennsylvania.
The
Honda Service Pass
covers your maintenance services for the first two years or 24,000 miles. Get free tire rotations, multi-point inspections, and professional engine oil and oil filter changes with this deal. If any piece of your new Honda Accord breaks during this time, we'll even replace it with certified Honda parts. It's our way of making sure your new vehicle is with you for the long haul. 
Size and Packaging
While Honda has increased the size of the Accord to create a more spacious vehicle over the years, it's still easy to navigate and a breeze to park in this mid-size sedan. Whether you're looking for a vehicle to get you to and from work on your solo commutes or a car that's big enough to take the whole family on a road trip, the Honda Accord is an excellent option. 
With more rear-seat legroom and headroom than the
Honda Civic
, this midsize sedan provides plenty of seating for up to five people. If you plan on having a family in the future, purchasing the Honda Accord may also prove to be an excellent investment since you won't need to sell your current vehicle to upgrade to a larger one. You'll also enjoy the spacious trunk, which provides ample storage for groceries and other cargo.
Customizability
When it comes to finding a vehicle that meets all your needs, the Honda Accord is a top contender. With flexible engine and transmission combinations and a variety of trim levels to choose from, Honda makes it easy for you to find or create your dream vehicle. Even the
Hybrid Honda Accord
comes in four different trims. Choose from leather or cloth upholstery inside your vehicle and explore more than eight paint colors for the exterior, including Crystal Black Pearl, Platinum White Pearl, Lunar Silver Metallic, Sonic Grey Pearl, Modern Steel Metalic, and San Marino Red.
There are also plenty of optional packages you can add to your Accord if you buy it new. Whether you choose to upgrade your infotainment system or splurge on a panoramic moonroof, the options you have to
customize your Honda Accord
are limitless. 
Fuel Economy
Another reason so many people love the Honda Accord is that it offers excellent fuel economy. Whether you spend most of your time driving around town or cruising down the freeway, you'll find the Honda Accord gets great mileage. Needless to say, if you're looking to save money at the fuel pump, purchasing an Accord is a great option. 
There's even a hybrid version available for drivers who want to reduce their environmental footprint and decrease the amount they spend on gas each month. The combination of a top-notch electric motor with a traditional gasoline engine makes it possible for the Hybrid Accord to use the least amount of gas possible without compromising performance. That means you can spend more time on the road and less time searching for the nearest gas station.
Responsiveness
You'll fall in love with just how responsive the
Honda Accord
is when taking it for a test drive. This vehicle strikes the perfect balance between offering a smooth ride and providing enough power to get you wherever you're going quickly and comfortably. The Honda Accord is quiet and dampens bumps well while maintaining excellent composure when turning corners. 
Many of the Accords available today also come with Sport mode, which provides just enough extra kick to get up to speed quickly when you need to on the freeway. Newer versions also include features like adaptive cruise control, forward collision warning, and emergency braking to automate driving and prevent accidents. Overall, the Honda Accord is easy to maneuver, has excellent suspension, and has solid steering, which makes it a fun car to drive. 
Affordability
One thing that hasn't changed over the years is the affordability of the
Honda Accord
. Whether you're looking for a new or a
used Accord
, you're sure to find a version of this sedan that fits your budget. Many of the most recent models fall just under $25,000, while you can often find older Accords in excellent condition for less than $10,000. Our team of auto finance experts at Apple Honda of York can also help you secure excellent financing when you purchase your Accord through our dealership. Simply fill out our secure online finance application to get pre-approved today.
If you choose to purchase or lease a
new Honda Accord
, you may also be eligible for additional offers through the manufacturer. Check out our lineup of Honda incentives to find the latest deals so you can save even more money. If you ever decide to sell your Accord in the future, you can also rest assured you'll make a good portion of your investment back. Hondas are well known for depreciating slowly and maintaining a high resale value, which makes purchasing this type of vehicle a smart decision. 
Are you ready to test drive a Honda Accord? Send us a
message online
,
visit our dealership
in York, or give us a call at 888-699-3367. Our friendly team of auto specialists will help you find and finance a vehicle that's just right for you.