Frequently Asked Questions
at Apple Honda
Before you research Honda models for sale or look into applying for a new car lease, rest assured that our Honda dealership in York, PA, is here to provide all the assistance you need. How so? For starters, we've come up with a comprehensive car-buying FAQ list that consists of frequently asked car dealer questions we receive. Check it out, then stop by Apple Honda when you're ready to meet with our team!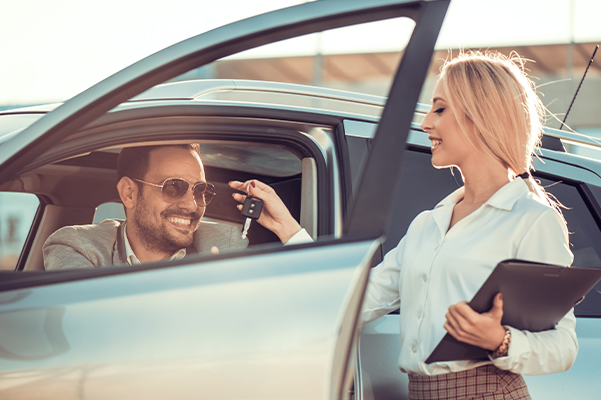 Where Is Apple Honda Located?
The Apple Honda building is at 1313 Kenneth Road in York, PA. This makes us conveniently located for Central PA Honda fans visiting us from Shiloh, Columbia, Lancaster and beyond. Get directions to Apple Honda and stop by soon.
When Is Apple Honda Open?
The Honda sales department at our nearby car dealer has the following hours:
Monday -- Thursday: 8:30 a.m. to 8 p.m.
Friday: 8:30 a.m. to 6 p.m.
Saturday: 8:30 a.m. to 5 p.m.
Sunday: Closed
Need to get auto repairs at our Honda service center? Our service department has the following hours:
Monday -- Friday: 7 a.m. to 6 p.m.
Saturday: 7 a.m. to 2 p.m.
Sunday: Closed
Our Honda Parts center in York, PA has the following hours:
Monday -- Friday: 7 a.m. to 6 p.m.
Saturday: 7 a.m. to 2 p.m.
Sunday: Closed
How to Contact Our Honda Dealer in York, PA?
There are a few ways to get in touch with us. You can contact Apple Honda online or by giving us a call at the following phone numbers:
Main Line: 717-848-2600
Sales Department: (888) 699-3367
Service Department: (888) 708-4373
Parts Department: (888) 708-3446
What Are My Honda Financing Options?
Take advantage of a multitude of auto finance options at our Central PA car dealer. The Apple Honda finance center will help you apply for an auto loan on a new Honda CR-V or Honda Civic, or you can opt to pay for a car in cash upfront if you have the means to do so.
Do You Have Any Honda Specials?
We're thrilled to have a wide selection of exclusive Honda specials for you to choose from. Take advantage of Honda Accord lease offers, Honda finance incentives and more to drive home with a price you can be satisfied with.
How Do I Estimate Monthly Car Payments?
We always love seeing York Honda fans come to us having done research on how much they can afford on a new or used Honda. That's why we've provided customers with an online car payment calculator. This way, you can get a firm grasp on your budget requirements.
How to Apply for an Auto Loan?
If you want to get pre-approved for a car loan or Honda lease in York, PA , fill out a Honda finance application before visiting us. Prefer us to walk you through the paperwork? That's no problem, as we'd be happy to help!
Can I Get Approved for a Car Loan Before I Buy?
Definitely! You can get a head start on the process by applying for auto financing online. You'll need to fill out the application with information like your address and income, as well as details about the new Honda car or used Honda SUV you're interested in.
Can I Trade In a Car?
We'd love to help you put your used car's trade-in value toward a new Honda Pilot or HR-V and lower the costs in the process. Or, if you'd rather sell a car in York, PA, and be on your way, we'll gladly purchase your vehicle from you.
Am I Eligible for Section 179?
Are you a small business owner in York County? If so, the Section 179 Tax Deduction is perfect for you. Learn about this U.S. government tax incentive and browse commercial Honda trucks today.
What Is GAP Insurance?
In the event of an accident, GAP insurance will help cover the amount you owe on your vehicle and the vehicle's cash value. Want to learn more about GAP insurance or any of our other Honda warranty coverages? Talk with our team now.
Apple Honda
Local Car Dealership Selling New and Used Cars
Serving: York, PA
Local Phone: 717-848-2600
Directions to Apple Honda
1313 Kenneth Rd, York, PA 17404