With the launch of the new 2023 Honda MY23 Odyssey in March 2022, Honda Service Pass will be a complimentary feature of every new 2023 and newer model year Honda we sell at Apple Honda!
Complimentary maintenance services for 2 years or 24,000 miles.

Professional engine oil and oil filter changes.

Free tire rotations.

Multipoint inspections.

Certified Honda parts.

Service included with your purchase!
Launched in late March 2022 - Honda introduces the new Honda Service Pass complimentary maintenance program with the release of the 2023 Honda Odyssey. This complimentary maintenance program provides quality benefits and services for the first two years or 24,000 miles that you own your new Honda vehicle. Throughout 2022, this program applies to the remaining 2023 Honda lineup models released after the Honda Odyssey. With Honda Service Pass, you can bring in your vehicle for maintenance services, engine oil and filter changes, tire rotation, and multi-point inspections with expert Honda maintenance teams.
Honda Service Pass comes with all 2023 new Honda models to ensure that you receive a satisfying experience with your vehicle purchase from Apple Honda of York. Having this program as part of your purchase will provide you with peace of mind as you drive your new car during your daily commute or for long-distance road trips. Receiving regular car maintenance with our dealership can optimize your car's performance and prevent potential problems that might arise from a lack of maintenance checkups and services.
Worry-free Purchase Confidence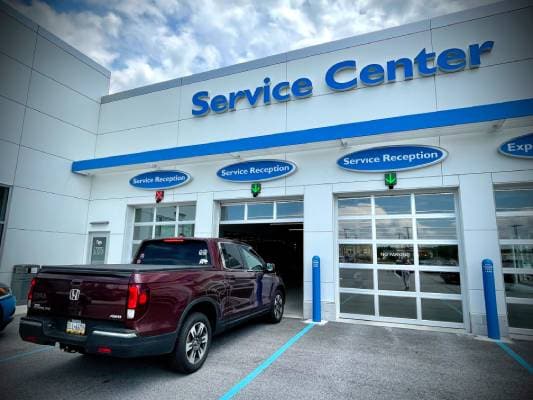 Buying a new 2023 Honda model allows you to complete your vehicle purchase with confidence, knowing that you can receive maintenance updates and services through your Honda dealership. You don't have to worry about canvassing maintenance shops for the best deal on services, such as tire rotations or oil changes, when you can get those done for free with your Honda Service Pass. Your dealership has an expert maintenance team that is familiar with Honda models of all shapes and sizes to provide you with dependable and quality service tailored to your vehicle's unique needs.
With the maintenance minder system that comes standard on your 2023 Honda model, you can make sure that you never miss a maintenance checkup or multi-point inspection. While standard maintenance reminder benchmarks are based on timers or mileage, Honda's system evaluates your own driving habits and engine operating characteristics to determine the optimal time to schedule maintenance. The Honda Maintenance Minder system provides you with notifications and reminders through your car's onboard computer system. Your team at the Honda dealership also offers email updates and additional maintenance packages for a thorough and convenient process designed for your ease and satisfaction.
Included With Purchase
The Honda Service Pass is included with your purchase of a new 2023 Honda model. With the cost of the maintenance program already built into the price of the vehicle, you don't have to worry about the added costs of purchasing additional maintenance services from other shops or service providers. Having this complimentary maintenance program standard with your new vehicle takes the guesswork out of scheduling maintenance appointments and finding Honda maintenance experts. As a standard for all new 2023 models, you can rest easy because you have a reliable maintenance team that's familiar with you and your car.
Transferable Maintenance Services
As a transferable maintenance program, Honda Service Pass can improve the value of your car if you choose to sell it while it's active. If the car remains within its first two years of ownership or under 24,000 miles (whichever one occurs first), then the maintenance and service offerings included by the dealership can transfer to the new owner within those same terms and limitations. 
These complimentary services add value to the car for prospective buyers who want to access the maintenance benefits of the Honda Service Pass. The value of the complimentary services that drivers can receive with Honda Service Pass is an added benefit for both buyers and sellers, which can help make the entire sales process much simpler and faster.
Genuine Honda Parts
Bringing your new Honda vehicle to our dealership ensures you receive genuine Honda parts and liquids for your maintenance services, such as engine oil and filter changes. Using genuine Honda parts for your new Honda vehicle is important for compatibility and enhance functionality. Compared to generic or other aftermarket brand products, Honda engineers and designs their products for their specific car models to optimize performance and work perfectly with your current Honda features. Our Apple Honda service and parts department also offers coupons and limited-time specials for you to customize and upgrade your car.
At the Apple Honda of York dealership, we have a vast selection of genuine parts to keep your car driving smoothly for years to come. With our competitive pricing, same-day delivery, and top-notch customer service, buying your parts from us provides you with everything you need to maintain your car while really making it your own. You can order parts through Apple Honda online or by phone. Bring your car and car parts purchased from Apple Honda to our service and parts department so that we can install your additional purchased parts for you and offer you a complimentary carwash.
With your new vehicle purchase from the 2023 Honda lineup, you can receive all the benefits and full value of our Honda Service Pass, along with our available new car delivery service. You can easily schedule service with us with our complimentary pickup and drop-off service options to accommodate your schedule for a convenient and hassle-free experience. At Apple Honda, we're dedicated to providing you with a variety of purchasing options and services to make the process of car buying and maintaining your vehicle as easy and smooth as possible.
Contact us to schedule an appointment to view eligible Honda Service Pass models or drop by and say hello to our team here at Apple Honda. We look forward to helping you find the right car at the right price. We regularly offer new vehicle specials and other incentives to make sure you get the best value. Check in with us often to stay up to date on our new offers. If you currently own a car and are interested in Honda's 2023 lineup, consider trading in your used car to take advantage of the new Honda Service Pass program.
Get access to the new Honda Service Pass and start shopping online, today!